When:
Back to Calendar May 20, 2017 @ 10:00 am - 2:00 pm
Where:
Cherry Hill Farmhouse
312 Park Ave
Falls Church VA 23201
✔ Add to Calendar Add to Google Calendar
Categories:
Events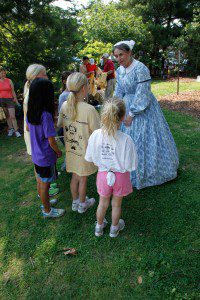 It happened here! Learn how the Civil War affected Falls Church as re-enactors portray both civilians and soldiers from the period. Watch soldiers conduct firing and drilling exercises, listen to period music, dance along with The Arlington House Victorian Dance Society and take advantage of fun period appropriate children's activities.
Special guest and presentation by General and Mrs. Robert E Lee!
This event is free and open to the public.
         ​Schedule of Events
10:00 A.M. – 2:00 P.M. :: Live Music by Civil War Comrades
10:30 A.M. & 12:00 P.M. :: Civil War Dancing by The Arlington House Victorian Dance Society
11:00 A.M. & 1:00 P.M. :: Presentation by General and Mrs. Lee
​         Throughout the Day
28th Massachusetts Voluntary Infantry
Firing and drilling demos throughout the day
Falls Church Home Guard
Led by Keith Thurston
Ladies Sanitary Commission
Presented by the Victorian Society
Tours of Cherry Hill Farmhouse
Hosted by Friends of Cherry Hill
Children's Activities
Wonder Turners, Quill Penmanship, Butter Churning, Whoop and Stick, Civil War Detective
Civil War Displays
Provided by Falls Church Historical Commission
Civil War Relic Exhibit
Provided by Tim Landis