When:
Back to Calendar May 9, 2018 @ 1:00 pm - 2:30 pm
Where:
Cherry Hill Farmhoue
312 Park Ave
Falls Church VA 22046
✔ Add to Calendar Add to Google Calendar
Cost:
$5 residence/$10 non-residence, adults are free
Contact:
Corey Jannicelli
703-248-5171
cjannicelli@fallschurchva.gov
Categories:
Events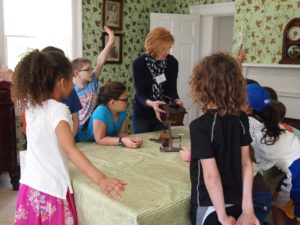 Children will tour the farmhouse and barn to learn how technology of the day made life easier for the 19th century farmer. Hands-on activities include identify tools a housewife would have used in her kitchen and those a farmer would have used in his barn. Enroll the child only. One adult may attend with each child. ENROLL TODAY!
This program is for children 5 and up
Register through the Falls Church Community Center at 703-248-5027 or online www.fallschurchva.gov/register. Use activity code 221022