When:
Back to Calendar July 29, 2017 @ 1:00 pm - 3:30 pm
✔ Add to Calendar Add to Google Calendar
Categories:
Events
The Victorian Society at Falls Church hosts Lucy Cadwallader, expert craftsperson/artist skilled in the unique field of hair jewelry and decorations. Lucy will demonstrate the painstaking techniques used to create these one of a kind pieces. This art form traces back to the 1500's however,  popularity grew during the Victorian Era with onset of the Civil
War, when saving a lock of hair was a sentiment of love. Women would wear lockets and brooches with locks of their husband's hair. Hair was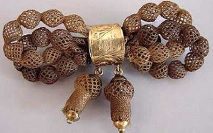 also m ade into intricate ornaments that were displayed in frames and shadow boxes. Displaying her work and also vintage examples going
back to the 1860's. Attendees are encouraged to bring vintage items made of hair, either jewelry or other decorations for show and tell.
The cost is $10 paid to the Victorian Society by July 1, 2017. For more information or to sign up for the event, please contact Midge Wang 703-534-8394.
Lucy Cadwallader has a unique way of reaching across time and tying families together. Through the art of Victorian hair jewelry, Lucy is able to take the hair of loved ones and create intricate pieces of jewelry. Jewelry of all kinds such as bracelets, earrings, necklaces, rings and brooches can be created using human or horse hair. Lucy has been making hair jewelry for twenty years, beginning with an interest in Civil War re-enacting. She has demonstrated the art of hair weaving at numerous Civil War re-enactments, Gettysburg Museums, The Museum of the Confederacy in Richmond, and the Textile Museum in Fargo, ND.