Valentine Tea Bring someone special to this Valentine themed tea hosted by a costumed docent. She will give an entertaining talk in the parlor before inviting guests into the lovely dining room for a full tea. Our tea consists of sandwiches, assorted sweets, warm scones and a bottomless cup of tea.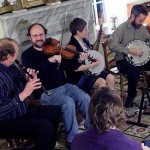 Celtic Music Concert
Enjoy a lively evening of traditional Irish music in the intimate atmosphere of the farmhouse parlor. Musicians will play banjo, guitar, flute, fiddle, mandolin and concertina.


Mother's Day Tea
Enjoy this special tea hosted by a costumed docent who will talk about a mother's role in the 19th century before inviting guests into the dining room for our traditional full tea.

Civil War Day (M
ay)
Reeanctors portray soldiers and civilians on the Falls Church home front during the Civil War. Watch firing and drilling exercises, hear spy stories and listen to the letters of soldiers and civilians. Music and children's activities will also take place.
Farm Day (October)
Enjoy an old-fashioned day of fun with hayrides, pony rides, a petting farm, pumpkin painting, scarecrow making and more.
Civil War Thanksgiving
Reenactors recreate a Civil War Thanksgiving as they host the holiday meal and entertain guests in the parlor.
Children's Holiday Shop
Volunteers will help children purchase and wrap inexpensive holiday gifts for friends and family.