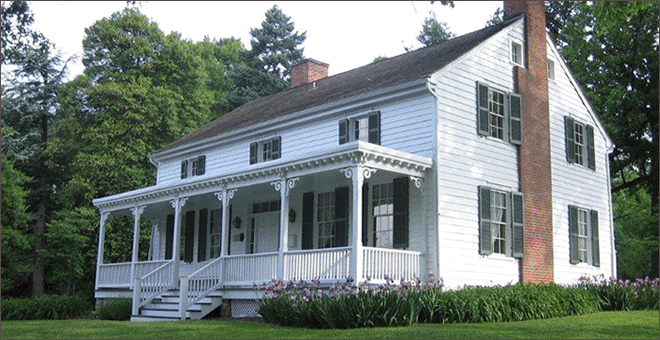 In 1976 as the nation celebrated its 200th anniversary there was a renewed interest in historic preservation. The City of Falls Church chose the restoration and preservation of Cherry Hill Farm as its special bicentennial project. It was a cooperative effort between the City and community groups. While the City owned the land and buildings the Friends of Cherry Hill Foundation was founded to furnish the house and barn. Extensive research and time went into acquiring appropriate furnishings for this Greek Revival style house and mid-19th century barn. The Friends also trained docents to give tours and began educational programs that would interpret life in mid-19th century Virginia.
Today the mission of the Friends of Cherry Hill Foundation is to preserve and protect the integrity of the mid-19th century house, barn, and outbuildings. The Foundation acquires and maintains the period furnishings in the house and the antique tool collection in the barn. Although four families have lived at Cherry Hill since 1845, the Friends support educational programs that increase appreciation for life in mid-19th century rural Virginia when the Blaisdell's, a middle-class farming family, lived at Cherry Hill between 1856 and 1868.
Cherry Hill Farm's beloved barn was constructed by William Blaisdell around 1857. Hear more about the barn and its antique tool collection in this short video based on our popular simple machines tour!
Quarterly Newsletters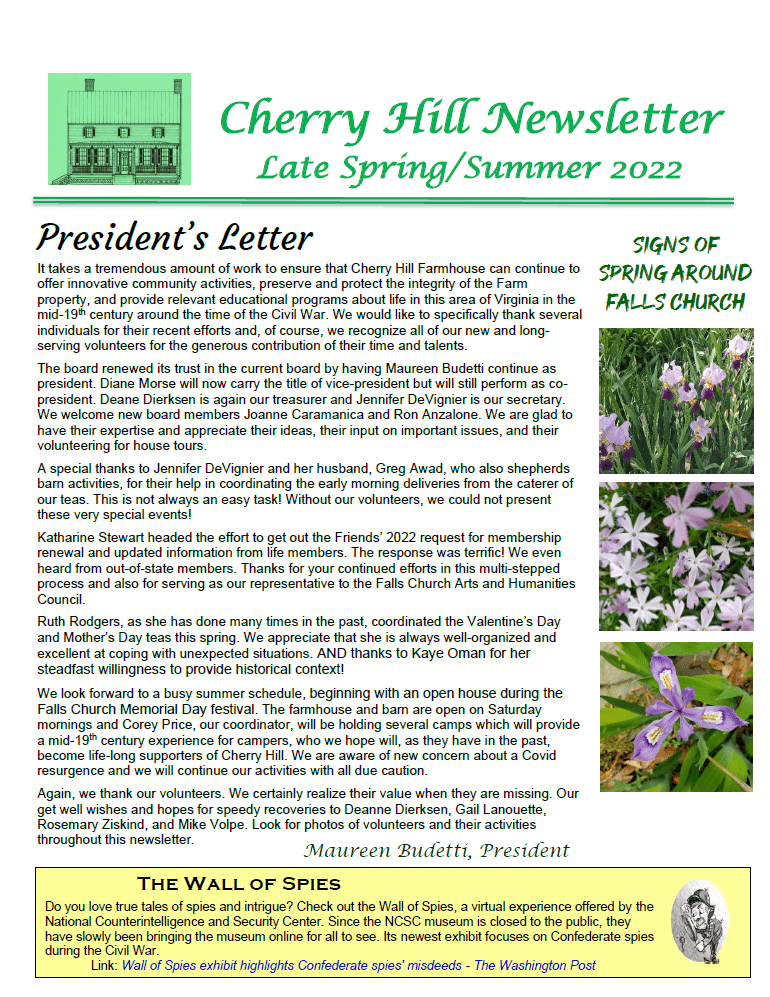 JOIN US—BECOME A MEMBER OF THE FRIENDS OF CHERRY HILL FOUNDATION
Your membership is important to us. You can help maintain and preserve Cherry Hill and the history of our community. Membership dues help fund educational programs at Cherry Hill. Members receive newsletters with interesting articles and special notices of upcoming events at Cherry Hill. If you would like to assist us in this important mission please print and complete the membership page and send it to the listed address.
VOLUNTEER OPPORTUNITIES
If you have a few hours to spare on weekends or during the week consider being a volunteer at Cherry Hill. You will meet interesting people while learning more about the history of 19th-century Virginia. There are many ways in which you can participate. If you are interested please contact Corey Jannicelli at 703.248.5171 or cjannicelli@fallschurchva.gov.
Tour Guides conduct tours of the house for adults and/or children. Tours are given both weekdays and weekends. No minimum number of hours is required.
Barn Volunteers help children grind and shell corn in the barn on Saturday mornings.